AIFC Academy of Law Webinar on "AI Ethics and Regulations in Central Asia" by Ammar Younas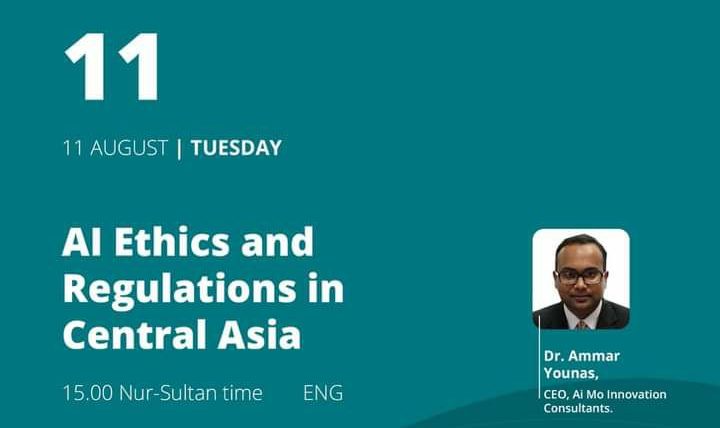 AIFC Academy of Law Webinar on "AI Ethics and Regulations in Central Asia" by Ammar Younas
You are invited to join a webinar on AI Ethics and Regulations in Central Asia organized by AIFC Academy of Law Kazakhstan.
Overview: Artificial intelligence (AI) is clearly emerging as one of the most transformational technologies in Central Asia. Automation and AI Blending continue to penetrate every industry sector and are delivering enormous benefits in the form of new business opportunities, automation of state functions, deeper customer insights, improved efficiency of services, and enhanced agility. However, despite an apparent agreement that AI should be 'ethical', there is debate about both what constitutes 'ethical AI' and which ethical requirements, technical standards and best practices are needed for its realization. Moreover, should Central Asia adopt a Generalized Strategy towards AI? Questions about regulation, what form it takes and who is responsible for governance are only just beginning to be answered in Central Asia. In this Second webinar of the series of Technology Law webinars, Ammar Younas will discuss the application of the law and ethics to AI. He will address the emerging issues in Central Asia such as privacy protection, nexus between freedom of speech and unemployment , responsibility & liability of Autonomous Systems, non-discrimination, ethical aspects of self-driving vehicles, autonomous weapons, quality-control procedures for AI systems, and transparency requirements for algorithmic decision making.
Speaker: Dr. Ammar Younasis originally from Pakistan and residing in different Central Asian countries since 2009. He consulted to the Research Institute of Legal Policy under the Ministry of Justice of Uzbekistan as an International Expert for writing a new Civil Code of Uzbekistan. He is a member of IEEE Global Initiative Law Committee. At the early age of 21 years, he earned his Medical Doctor (MD) degree, making him one of the youngest medical doctors in the world. He earned 6 other degrees in Finance, Political Marketing, International Relations, Jurisprudence, Human Rights and Chinese Law from Kyrgyzstan, Italy, Lebanon and China. In 2019, he coined the term "Central Asia Tech Law (CAT Law)" and started advocating the idea of a "Generalized AI Policy for Central Asia". Ammar launched his StartUp named as "Ai Mo Innovation Consultants" to provide training, digital services and consultation to the tech giants, businesses, state institutions and academia about digital transformation, technology regulations, policies and ethics. His research interests include but not limited to Technology Law, Societal Impact of Artificial Intelligence (AI), Regulation of AI & Emerging Technologies, Human Rights, Medical Law and Central Asian Politics.